Last updated on August 14th, 2022 at 01:24 pm
The words air crisp and air fryer are often used interchangeably, leading to many individuals' confusion.
The difference between these two names is not always clear to beginner chefs, which is why it is always misinterpreted.
So is there a difference between an air crisp and an air fryer? If that is not the case, what distinguishes them from one another? An air crisp is comparable to an air fryer in nearly every way.
An air crisp is a piece of kitchen equipment that simulates the cooking process of deep frying by utilizing hot air to fry food in the same manner as traditional deep frying. Moreover, an air fryer serves a similar purpose.
An air fryer and an air crisp are synonymous appliances. You can use your air fryer for various purposes, including making food using the air crisp cooking process. Also, an air fryer is not restricted to preparing air crisp recipes alone but performs the function of an air crisp.
What Is Air Crisp?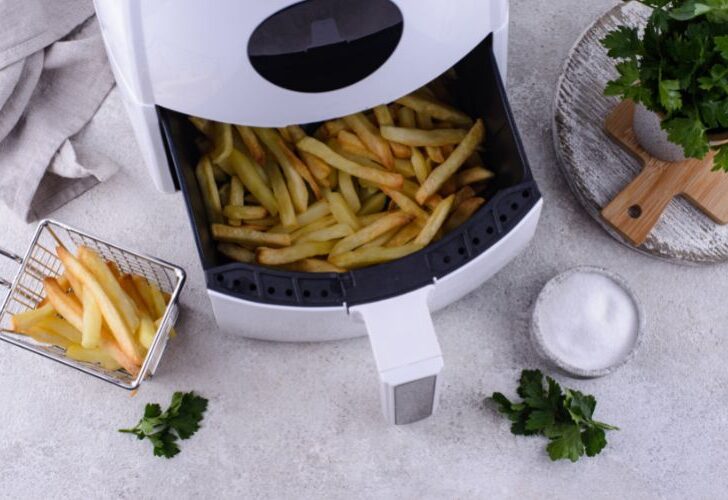 Air crisp is a feature on the Ninja Foodi that functions like an oven air fryer, and you can use it for cooking various foods.
For example, fries, chicken nuggets, doughnuts, and various other foods can be cooked perfectly in an air fryer without needing oil.
Moreover, the resulting food will be healthier than if you had fried it in oil since it is not for the cooking process in air crisp. Air crisp utilizes hot air to cook food rather than oil.
If you are attempting to reduce weight or have high cholesterol, this is excellent news because it can help decrease your cholesterol levels by lowering the amount of fat in your diet.
If you have high cholesterol, this can also help you lose weight.
Another advantage of utilizing a pot air fryer is that it doesn't take very long for food to cook, so there aren't that many meals that need excessive time spent in the kitchen.
The Tender Crisp technology included within the Air Crisp air fryer helps your food cook more rapidly than traditional air fryers.
Then the Tender Crisp cover finishes the job by browning and crisping the food. It is terrific for preparing healthier versions of your favorite fried dishes, making cooking simple.
What Is an Air Fryer?
An air fryer is a specific sort that allows you to cook food without using a significant quantity of oil.
You may use it to easily prepare various foods from your cookbooks, such as French fries, poultry, roasts, and fish. You may also use this air fryer for cooking doughnuts.
An air fryer is the sort of kitchen appliance that can take the role of many conventional cooking techniques, such as using a grill pan, baking pans, and deep fryers.
So if you are on a diet but still want to eat some of your favorite foods, you can do so with the assistance of some of the best air fryers.
You can prepare food without additional fat added to it. You can avoid ingesting up to eighty percent of the additional calories added whenever trying another typical frying method.
To make matters even more convenient, you won't have to use as much oil in your deep fryer, saving you both time and work.
This cooker air fryer uses a word bend to enclose your food, which allows it to crisp up your food healthily while maintaining a satisfying crunch.
Not only that, but it operates quickly and can prepare your meal in a matter of minutes at the most.
Because of the appliance's non-stick coating and ease of cleaning, you may even put it in the dishwasher.
In addition, most of them come pre-loaded with practices you can use to cook your cuisine with only the press of a button.
Is An Air Crisp the Same As An Air Fryer?
Both air crisp and air fryer involve cooking the food by moving hot air around it in a circular motion to get the desired crispiness.
Food is browned using direct heat from the oven's burners when it is grilled or roasted using the oven's heating element.
Air fryers are countertop appliances, which makes them even more compact than the most compact conventional ovens.
However, even the most compact specialized cooker air fryers may take up considerable room, which can eat into valuable kitchen counter space.
Although air crispers are considerably more prominent, they are often integrated into kitchens, making them a more streamlined and space-saving solution than other alternatives.
Air Crisp Vs. Air Fryer Working?
The Air Crisp and Air Fryer is a multi-cooker that offers a wide range of cooking options and functions as a 2-in-1 appliance.
Not only does it feature eleven different cooking capabilities to accommodate every need, but you can easily convert it into a convenient cooker air fryer by switching the cover.
In addition, individuals who don't want to spend a lot of money on many appliances will find this an excellent way to preserve space in their homes.
However, the cooker is relatively large, so you will need a storage place that is large enough to accommodate not just it but also the two air fryer lids and the other accessories that come with it.
Aside from the space issue, the Air Crisp and Air Fryer operate well in their primary duties, such as pressure cooking; nevertheless, the steaming and air frying settings may need some trial and error on your part.
You'll need to manually modify any times or temperatures to suit your preferences, even though the air fryer setting is straightforward. This was because it had a propensity to overcook the food.
However, if you will only be utilizing the pot air fryer feature, you should get a separate air fryer made just for that purpose and has greater power than the one you now have.
Overall, the Air Crisp and Air Fryer will do a fantastic job for you if you are looking for a flexible multi-cooker with an air fryer.
Air Crisp Vs. Air Fryer Price
The Air Crisp and Air Fryer are accessible in two capacities: a 6-quart variant can be purchased for $149, while you can purchase an 8-quart model for $199.
In addition, it is readily accessible and often discounted on Amazon and various online merchants.
You shouldn't be surprised to learn that this is one of the most advanced pressure cookers that Instant Pot offers; hence, you should anticipate paying a higher price.
On the other hand, the Instant Pot Duo Nova 7-in-1 Cooker can do everything but air fry and begins at a modest $99.99, depending on the size.
So if you're searching for a more affordable choice, this may be the one for you.
Which Is Better, Air Crisp Or Air Fryer?
Cooking your food in an oven air fryer does not produce healthier meals in the traditional sense.
But, on the other hand, if you attempt to cut down on calories, you could find that an air crisp does a better job since it stops food from sitting in excess oil and taking up the oil's flavor.
Deep-fried French fries are often stepped in oil throughout the cooking process to obtain the right crispiness. On the other hand, you can cook air-crisp fries in a cooker air fryer.
Nevertheless, there is no meaningful difference in health risks between the two types of kitchen equipment.
If you don't use oil when you cook or heat foods like chicken nuggets, fries, or other similar items, all that an air crisp can do for you is make the snack crisper.
In addition, you won't have to go to the effort of flipping it over while it's cooking. Here are some pros and cons of air crisps and air fryers:
| Pros | Cons |
| --- | --- |
| User-friendly | Extremely heavy |
| Easy to clean | Lids take ample storage space |
| Substantial capacities for foods | The air fryer basket is too small |
Conclusion
This air crisp and fryers guide should have helped answer some of your burning questions. If you're a beginner, get an essential air fryer without fancy features.
It will also cost you less than the other options available to you. If you're a skilled chef who wants to level up, invest in a versatile air fryer.