Last updated on August 14th, 2022 at 01:25 pm
A power outage is an unpredictable situation that can happen at any time. When it occurs, the loss of power causes the fridge to stop cooling after a few hours.
Thus, it poses the risk of your edibles getting spoiled. If your refrigerator is fully stocked, what a waste it would be.
Fortunately, you can avoid this distress by powering your refrigerator with suitable alternatives.
While a common alternative is using generators, a battery backup system is even better.
Refrigerator backup batteries are a must-have for combating low power or total blackouts. Some backup battery alternatives include the Jackery power station explorer and the Geneverse home power one. However, there are other credible batteries that come in handy at unexpected blackouts.
Last update on 2022-12-29 / Affiliate links / Images from Amazon Product Advertising API
#1. EF ECOFLOW Portable Power Station DELTA
The ECOFLOW portable power station delta is a solar battery generator with an output of 3300 watts.
To disburse its massive power, it has several charging outputs. These include 6AC outlets, a standard DC outlet, 2 USB-C ports, 2 USB-A ports, and one USB-A fast-charge port.
This battery power supply system can power your refrigerator alongside other power appliances and devices at a go.
The portable power station runs on a lithium battery which you can charge using a solar, car charger, or wall adapter. However, note that it uses only the 10-65V solar panel.
With a solar panel, it recharges fully within four to eight hours. It is extremely fast charging and garners 100% within two hours for most devices.
Thus, it's ten times faster than its counterparts. With all this power, it can keep a 120-watt refrigerator running for 8-15 hours.
With all these qualities, finding a match for the EF ECOFLOW portable power station is hard. So, EF ECOFLOW is a must-have as it effortlessly tops the list.
What we Like
It doesn't generate gaseous fumes and is thus eco-friendly.
It's fast charging and powers multiple devices through 13 outlets.
It uses green technology.
It's rated 1800 watts with a surge of 3300 watts, thus highly efficient.
You can use it both indoors and outdoors.
In-built MPPT and Xstream technology.
What we Don't Like
What's there not to like? It charges all devices and appliances faster than other backup power batteries, and it's fast charging.
It's noiseless, eco-friendly, reliable, durable, and offers outstanding service during blackouts.
Last update on 2022-12-29 / Affiliate links / Images from Amazon Product Advertising API
#2. Geneverse HomePower One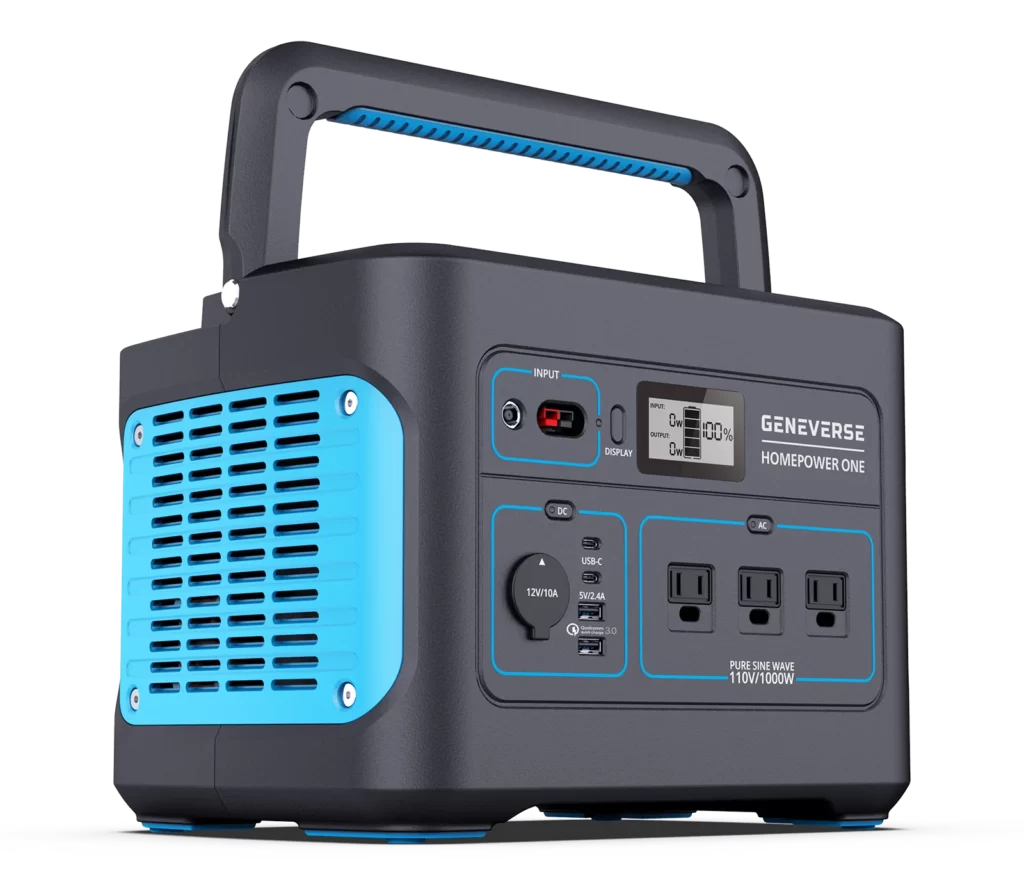 Countless battery power supply systems can power refrigerators and other electronics. However, the perks of the Home power one make it claim second place on my list.
This uninterruptible power supply system supplies 1000 watts and a surge power of 2000 watts at a voltage of 110 from eight power outlets.
The 23lbs homepower one generator with electric grade battery cells can last efficiently for seven days and store power for a year.
It features three pure sine wave AC power outlets and is compatible with type C USB having two of such outlets.
It also has two USB-A outlets and a car outlet for devices that use batteries. You can charge HomePower one using the Solarpower one panel, the car, or the AC outlet.
The AC outlets can't power devices using above 1000 watts; else, it will trip off.
However, it has six safety protections and can charge a refrigerator that steadily consumes 60- 200 watts for five to fourteen hours.
You should note that the working time varies based on how much power your refrigerator consumes.
The Geneverse Homepower one can also power other home and office appliances, medical devices, and tools.
What we like
It is a reliable and versatile emergency backup power station.
It is fast charging, long-lasting, and can provide power for a whole week.
Impressive energy retaining and a five-year warranty.
It is safe and has an adjustable kickstand for easy setup.
It has multiple outputs and outlets to suit various devices and appliances.
It takes 500 full charging cycles for its battery holding capacity to drop 5-20%. As such, its capacity is outstanding.
What we Don't Like
It can't come on automatically. You have to activate it manually.
Last update on 2022-12-29 / Affiliate links / Images from Amazon Product Advertising API
#3. BLUETTI AC200MAX + 3*PV200
This combination is the first expandable power station that Bluetti has produced. It has a spectacular 2,048wh capacity, 2200 watts, and a pure sine wave inverter with maximum strength.
With all this energy available for use, it has 16 ports that facilitate charging electrical devices and appliances.
Among these 16 ports are a 12V 30A DC outlet and a 30A NEMA TT-30 outlet. And yes, it holds enough power to keep your refrigerator running for a couple of hours.
Bluetti AC200 max has a variety of charging options which total seven. First, you can charge it through the solar input, thus infusing 900 watts.
You can also make do with the wall adapter that passes 400 watts. The multiple charge option is common with power stations, but this is different as you can use the two charging options simultaneously.
Bluetti is highly technological; therefore, its expandable power station operates with smart control and monitor app.
It also has an LFP battery with a mind-blowing 3500 life expectancy cycle, after which it still retains 80%.
50% of this refrigerator backup battery's power is only lost after functioning for about 25 hours. So, a refrigerator that draws 99 watts can comfortably run on this combo for 17 to 18 hours.
This home refrigerator battery backup is worth every penny. With Bluetti, you can be confident of being sustained all through an emergency.
What we Like
It's an amazing combination.
It has seven charging methods and 16 power outlet ports.
Bluetti makes monitoring easy via the provision of an app.
The AC200 max and 3* PV200 combo are powerful and durable.
You can fold it, so it is portable.
What we Don't Like
It is expensive and may be above an average budget.
The power output can reduce depending on factors like weather, the intensity of sunlight, and temperature.
Last update on 2022-12-29 / Affiliate links / Images from Amazon Product Advertising API
#4. OUPES 1800W Portable Power Station
This solar generator has a 1448wh capacity, 1100 watts, and ten outlets, three of which are AC ports. The remaining seven outlets consist of a carport, USB-A, ISN-V, and DV ports. I must commend this versatility.
Its battery consists of lithium ions, and its overall weight is 31lbs which is average as an adult can easily carry it. Like most of its counterparts, this backup battery can be efficiently used at home or outside.
Its electric vehicle-grade battery cells are tried and true. Moreover, so you can have peace of mind while using it, the product has a five-year warranty.
This portable power station was explicitly created for high-energy consumption devices such as full-size refrigerators.
What we Like
Lightweight, portable, and easy to use.
It has a variety of power sources that enhance versatility.
It's fast charging and eco-friendly.
It supports pass-through charging while protecting battery life.
What we Don't Like
Though it's worth every dime, some may still find it pricey.
It may be a little heavy but don't worry. I'm certain you can carry it.
Last update on 2022-12-29 / Affiliate links / Images from Amazon Product Advertising API
#5. Renogy 2000W Pure Sine Wave Inverter
The Renogy inverter is a powerful backup power supply efficient in providing energy during emergencies, power outages, and blackouts.
This product which is of advanced technology gives off 2000 watts and has a peak surge of 4000 watts.
You don't have to worry about safety since renogy has short circuits, GFCI, overload, over-voltage, and over-temperature protection amongst others.
It's DC input voltage and AC output voltage are 12V and 120V respectively. The renogy pure sine wave inverter is suitable for high inductive loads which it enables to run smoothly and noiselessly.
It features an AC terminal block, 3ACoutkets, and a built-in USB port alongside a remote control albeit wired.
This backup power system is commendable for off-grid purposes. Interestingly, the renogy inverter has LED lights that display its operating conditions.
A green light signifies proper functionality, yellow informs you of a ground fault and red shows low power.
Though this product is an inverter, it works well with most batteries and can certainly power your refrigerator.
I love it because it consumes low power as it works thus reducing power wastage and increasing working duration.
The renogy inverter is remarkable as it is a best seller on Amazon. I must say that for all its power, utility and safety, is cheap. This backup power supply costs just $268.79 on Amazon.
What We Like
It has an inbuilt ventilator fan that reduces the emission of heat, so it is safe for home-usage.
Its weight of 11.7 pounds is minimal/ average. Thus, it is way easy to move around.
The inverter battery is well protected with seven safety measures including GFCI protection.
It is safe to use because pure sine wave energy is not harmful to appliances. It charges and powers appliances without harm thus maintaining and extending their life span.
It is easy to set up and has a remote control which eases operability and control.
It is suitable for both consumer electronics and household appliances, even the ones that require high power like refrigerators and microwaves.
What We Don't Like
The inverter cannot support a 24V system. It only carries a 12V battery system.
Lack of space and proper ventilation could lead to fire hazards.
Connecting the inverter battery may be challenging. Why you could try to do it, it would be best to seek the help of a professional.
Last update on 2022-12-29 / Affiliate links / Images from Amazon Product Advertising API
What to Look Out for in Refrigerator Backup Battery?
To grade a refrigerator battery as useful, it would have to satisfy your needs which primarily involve keeping your fridge cold.
To ensure that a backup battery can function properly, here are things to check before purchasing one.
You have to check its wattage as any backup battery system that offers below a thousand wattage is insufficient to carry your refrigerator smoothly.
Know the amount of energy your refrigerator requires. You can verify this by multiplying your refrigerator's voltage and amperes which you will find on a sticker at the handle or in the manual.
Ensure that the backup power supply system's output matches your refrigerator's plug-in.
Look out for battery life and life cycle to ensure that it can last you for an extended period.
If you're shopping online, it will be best for you to check the product's reviews and ratings.
Best Refrigerator Battery Brands
Doubtlessly, dozens of battery backup power systems are available for purchase online and in stores.
However, it would be a waste to blindly purchase one that won't render all its claims. Thus, this is the reason you need to know the best brands.
To take the stress off your shoulders, here are the best refrigerator battery brands I recommend.
The first is EF ECOFLOW, an innovative brand that provides excellent eco-friendly power solutions.
Since venturing out in 2017, ECOFLOW has a host of fantastic products, and the portable power station Delta is proof of this.
The second is Geneverse (formerly Generark). The brand was spurred to provide affordable and renewable backup for power emergencies after the founder's experience.
This urge for innovation led to the creation of the Homepower one. Ideally, even if you have never experienced a power outage, you should have one of the above.
However, if you want an uninterruptible power supply for your desktop and similar devices, you should see the Jackery, APC, or Tripp Lite UPS.
The choice is up to you so go with whatever suits you. And, if you decide to opt for other preferable alternatives, study it to ensure that it's safe and can power necessary appliances.
Conclusion
The refrigerator is a vital home appliance as it stores food and keeps them fresh. We all know it needs the power to function, but when there's an outage, the need for suitable alternatives arises.
Luckily, there are refrigerator batteries from trustworthy brands like ECOFLOW, Geneverse, and Blueetti, amongst others.