Last updated on August 14th, 2022 at 01:24 pm
Installing a ceiling fan in any space is a plus for the ventilation system. Though ceiling fans don't cool the air they move, they create a cooling effect.
The cooling effect results from a downdraft as the fan rotates counterclockwise. Ceiling fans also create a heating effect with an updraft. So, when a ceiling fan rotates clockwise, it produces an updraft.
Setting up a ceiling fan in the kitchen would indeed point to the cooling effect. Cooking generates a lot of heat, so the fan can help to stabilize the temperature.
Thus, the fan should rotate counterclockwise in that case. Besides the direction of rotation, one has to adhere to safety rules when setting up a ceiling fan.
It's a safe choice to install a ceiling fan in the kitchen. Kitchen ceiling fans replace the hot air in the kitchen with cool air above the ceiling fan blades. That cycle of airflow is what we refer to as a downdraft. Ceiling fans go a long way in keeping the kitchen temperature in check.
Can You Hang Ceiling Fan in Kitchen?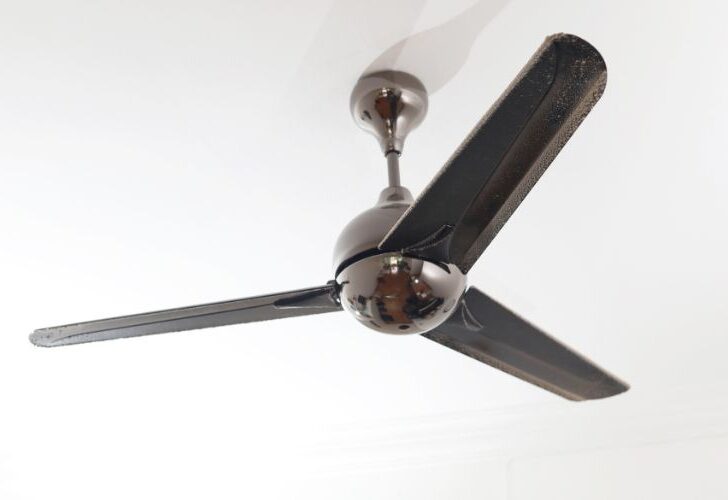 It's a good idea to install a ceiling fan in the kitchen as it improves airflow. That helps dispel choking odors when something gets burnt in the kitchen.
It works nicely for kitchens that lack an exhaust vent. Kitchen ceiling fans also help stabilize the temperature when it gets scorching.
But be wary that ceiling fans may blow particles around in the kitchen. So, it matters how you use the ceiling fan in the kitchen.
It would be best if you didn't turn the fan to the highest setting when cooking. It may end up blowing in some extra ingredients into your dish. A strong downdraft from the ceiling fan can also knock items over.
You should consider the kitchen space before installing a ceiling fan. If there isn't enough room for suspension, the ceiling fan will become an obstruction.
That is, especially when cooking is going on in the kitchen. Excessive airflow may blow out flames or reduce heat intensity.
That might affect the cooking process and change how the dish turns out. Also, kitchen ceiling fans need more regular cleaning than fans in other rooms.
That's due to smoke or residue on the fan blades from cooking. But, naturally, you wouldn't want thick layers of dirt on your kitchen's ceiling fan.
But frequent cleaning may cause the fan to wear out faster than it should. So, you'll replace the ceiling fan sooner than you had to.
It's best to assume a central position for a ceiling fan in the kitchen. Improper positioning will make the fan an unwanted accessory in the kitchen.
What Kind of Ceiling Fan Is Good for a Kitchen?
You'd want one that reaches a wide area when installing a kitchen ceiling fan. It's best to go for a ceiling fan with long, steep-angled blades. A ceiling fan with short and flat blades is not as efficient in air circulation.
Traditional ceiling fans or those with retractable blades both work for kitchen spaces. But the choice is down to aesthetic values because the fans differ in functionality.
Ceiling fans with retractable blades have better ventilation efficiency. That is because they save space when you retract the blades.
Traditional ceiling fans offer much ventilation due to their longer blades. But they also take up more space than units with retractable blades.
You can choose to install more than one ceiling fan if you have ample kitchen space. But that means extra costs.
Getting one large fan that can serve the whole kitchen is better. The size of a ceiling fan that works for a kitchen depends on the size. The kitchen size determines the size of the ceiling fan.
Here's a guide showing suitable ceiling fan sizes for some kitchen dimensions.
| Kitchen Dimension | Fan Size |
| --- | --- |
| 50 square feet | 29 inches or less |
| 75 square feet | 30-35 inches |
| 76-144 square feet | 36-44 inches |
| 145-224 square feet | 45-50 inches |
| 225-400 square feet | Above 60 inches |
Getting a ceiling fan with settings for both downdraft and updraft is also a good idea. You may choose to use the updraft setting for extra warmth during winter.
LED ceiling fans are also good options for the kitchen. The ceiling fan light offers extra lighting in darker kitchens.
So, you can install LED ceiling fans in the kitchen instead of adding extra bulb units. It saves cost and energy.
Ceiling Fan In Kitchen with Gas Stove
Having a ceiling fan in a kitchen with a gas stove is not ideal. The airflow from the ceiling fan is a threat to the burning flame.
It'll trouble the flame and may even blow it out. That's likely if you set the fan to its highest setting. The instability of the flame will increase cooking time. That may also leave the food undercooked.
Gas stoves can make the kitchen unbearable when cooking, especially during the summer. It's extreme when the kitchen lacks air conditioning or an exhaust vent.
Opening the kitchen windows helps to reduce the hot air. But a ceiling fan helps to stabilize the temperature faster.
The chance of a ceiling fan blowing out the flame of a gas stove is deadly. If the flame goes off while the gas is still on, it'll escape build-up in the kitchen.
That poses a threat to safety in the whole house. There are few safety measures to safeguard using a ceiling fan in a kitchen with a gas stove.
Ensure the fan suspension from the ceiling is not too low. If it is, the ceiling fan will be more likely to disturb the flame from the gas stove.
Ensure the fan size matches the kitchen size. You'll get excessive air circulation if you get a large fan for a small kitchen. That will draw the stove flame into a fight against airflow. On the other hand, you wouldn't want flames flying around as well due to a strong airflow.
Please don't set the ceiling fan to its highest setting when cooking. Ensure the fan's intensity doesn't trouble the flames but improves ventilation.
Here are some cons of installing a ceiling fan in the kitchen.
| Type | Description |
| --- | --- |
| Tricky Installation | You have to put a lot of thought into ceiling fan type and its placement in the kitchen. The fan will not serve well if you miss those things. |
| Extra Noise | The rotation of the ceiling fan blades generates extra noise in the kitchen. The noise could be very unpleasant if the installation is off. |
| Limited Reach | The ceiling fan can't reach the whole kitchen with its effects, but only some parts. The reach of the fan depends on its size. |
| Disturbance to Gas Stoves | The downdraft from ceiling fans can trouble gas stove flames. Also, it can blow the flames out. |
| Grease Build-Up | Grease can build up on the ceiling fan blades due to cooking in the kitchen. It'd mean you have to clean the fan more often and wear it out faster. |
Ceiling Fan in Kitchen Ideas
Some stylish ceiling fans are perfect for giving your kitchen an extra décor touch. They come in different shapes, colors, and sizes.
So, you can get a ceiling fan that matches any interior décor design. It's also possible to order custom-made fans with some brands.
There's a wide variety of ceiling fans that fit the kitchen. So, there's undoubtedly a product on the market for every kitchen user.
Here are five suggestions for ceiling fans in kitchens.
| Name | Brand | Color | Control | Fan Size |
| --- | --- | --- | --- | --- |
| Indoor Ceiling Fan with LED light – 59290 | Hunter Bureau | Matte Black | Remote control; pull chain (optional) | 60 inches |
| Interceptor Damp Ceiling Fan | Casa Vieja | Silver | Remote control | 58 inches |
| Wynd Graphite LED Wet Ceiling Fan | Modern Forms | Gray | Radio Frequency wall control; voice command | 52 inches |
| Lighted Ceiling Fan Royal Chandelier | Tatiana | Gray | Pull chain or remote control | 52 inches |
| Cozette Collection Ceiling Fan | World Imports | Satin Nickel | Remote control | 24 inches |
Five Reasons to Put a Ceiling Fan in Your Kitchen
There are many benefits to having a ceiling fan in the kitchen. That is when you get the fan type and installation right.
Here are some of the pros below.
#1. Cooling and Heating Effects
Kitchen ceiling fans are significant assets for temperature control. The ceiling fan can serve a dual purpose depending on its setting.
First, an updraft creates a heating effect. Then, a downdraft cools the air under the ceiling fan blades. As a result, the ceiling fan can lower the kitchen temperature by 4-5 degrees.
#2. Lesser Energy Bills
The need to use the air conditioning unit drops when the ceiling fan cools or warms the kitchen.
So, the ceiling fan serves as an energy-efficient alternative. You can then save on the energy used for the air conditioning unit.
#3. Flying Insects Control
A running ceiling fan can generate a gust to keep insects grounded or away from the kitchen. But, of course, you can't help but open the kitchen windows sometimes.
That's a natural invitation for flies and mosquitoes to come in. But such insects wouldn't be able to fly around the kitchen when the ceiling fan is swooshing.
#4. Odor Elimination
Ceiling fans boost airflow in the kitchen. Thus, the enhanced ventilation helps to push odors out of the kitchen. So, the effect is helpful in quickly dispersing smoke or any unpleasant smell in the kitchen.
#5. Aesthetic Value
A ceiling fan can complement the décor in the kitchen. You can choose a color and type that would give the kitchen added beauty.
The retractable blades ceiling fan is an excellent aesthetic choice. Then, LED ceiling fans are your go-to option for a fancy kitchen look. The look of light on ceiling fans is fantastic.
So, LED ceiling fans are pretty fancy because they light up the kitchen and improve airflow.
Conclusion
Ceiling fans are great additions to any kitchen setup. They improve airflow and help reduce energy costs. But, kitchen ceiling fans can be tricky to install and can sometimes get noisy.
Also, you have to put extra care when using ceiling fans in kitchens with gas stoves. A strong airflow can unsettle flames and increase cooking time.