Kitchen cabinets are undeniably an essential part of the aesthetics and functionality of any kitchen.
It does not matter if you are installing a new kitchen or looking to remodel; you want to get it right at first instance. The reason is that no matter your choice, these things cost effort, time, and money.
Weighing these, you should consider all your options and factors before making a purchase.
In kitchen cabinets, Costco and Ikea are the ruling class. Over the years, they have consistently built a reputation that makes them trusted. In addition, they both have an array of products that satisfy the various requirements of their customers. As a result, there is no exact ranking for which brand is best for buyer-dependent decisions. 
Which Brand Cabinet Is Best: Costco Vs. Ikea?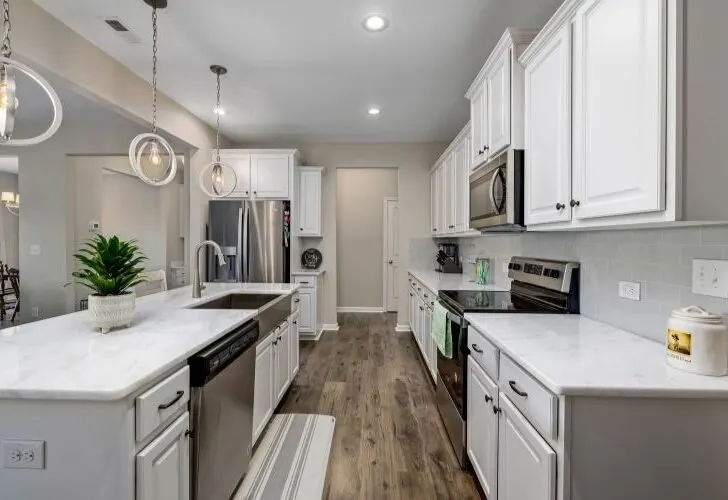 As already established, choosing between Costco and Ikea kitchen cabinets can be challenging. You must consider several factors to make a convenient choice as a buyer.
These factors are ease of installation, functionality, durability, storage capacity, and customer service.
#1. Costco Kitchen Cabinets
Two different manufacturers make Costco kitchen cabinets. The first is All Wood Cabinets in Florida, which manufactures Costco's Metropolitan and Semi-custom lines.
The second manufacturer is Tuscan Hills Cabinetry in New Jersey, which makes their Ultimo custom line.
This custom line is their full-custom line. Both lines are exclusively Costco lines, and they offer a variety of styles and colors.
With Costco kitchen cabinets, quality is assured and never compromised. Their products are triple-layered, ¾-inch plywood panels with faces and fronts made of quality laminate or hardwood veneers.
This wood quality helps produce hardy cabinets compared to those made of particleboard or MDF.
Costco drawer mechanisms and hinges also have better quality compared to most cabinets, including Ikea.
Because of this high quality, they are also prone to more extended longevity than cabinets made from lower-quality materials.
To preserve this quality, Costco makes their cabinets with little to no room for modifications.
This feature helps to prevent wrong adjustments and similar mistakes that usually occur around a cabinet's handles, joints, and hinges.
In addition, because they come in either full or semi-custom models, Costco cabinets are easier to install.
Although, this does not mean it is an easy task to carry out yourself. It is always advisable to call for professionals to help with your cabinet installation.
#2. Ikea Kitchen Cabinets
The primary material for Ikea cabinets is Medium-Density Fibreboard (MDF). This material can be in combination with melamine foil, glass, and metal.
MDF is a very affordable material of less quality than the solid wood Costco uses for theirs. This material is soft boarded and easy to drill and cut.
Because of the quality of the material, it is easy to make modifications and desired adjustments.
Since Ikea cabinets are easy to modify, one can say they have more allowance to accommodate as many items as possible.
This brand considers storage space a necessary factor and does all it can to satisfy the needs of its customers.
Compared to others, Ikea kitchen cabinets are more complex to install. Each piece comes separately, so correctly putting these parts together can be overwhelming.
Also, Ikea offers a broader range of options with their designs and looks. With Ikea, there is a cabinet for every customer's taste.
The only drawback to this is that, due to the quality of their primary material, they are not as durable as their Costco counterparts.
Another advantage Ikea has over its competitors is the warranty they offer on its cabinets.
Compared to Costco, which offers short warranties that may not even be up to ten years, Ikea offers a 25-year warranty.
This warranty goes to emphasize their reliability to their customers. Reports also show that their customer services are top-notch.
#3. Differences Between Costco and Ikea Kitchen Cabinet
Regarding these cabinets, there is no ranking as to which is better. Your decision boils down to your tastes and individual preferences.
The differences between these cabinets are presented in the table below:
| Costco Kitchen Cabinet | Ikea Kitchen Cabinet |
| --- | --- |
| They use solid wood, which is of better quality. | They offer a variety of designs and choices. |
| They are more durable. | They allow for more modifications and adjustments. |
| They are more expensive. | Their modifications allow for more storage space. |
| They are easier to install. | They have a more extended warranty and better customer service. |
Cost Of Costco Kitchen Cabinets Vs. Ikea
Pricing is a critical factor affecting a customer's choice of kitchen cabinets. It is common knowledge that Costco kitchen cabinets are more expensive than Ikea's.
There are three main reasons for this price difference. These reasons are listed below.
#1. Quality of Materials
As earlier discussed, these two companies use two different materials for their cabinets. Because these materials are different in quality, their prices are also different.
In addition, the materials Costco uses, especially for their premium line, have to be shipped in, affecting the cost of the finished product.
#2. Manufacturing Chain
Unlike Ikea, which makes its kitchen cabinetry, Costco subcontracts its manufacturing to two companies in different locations.
These two companies do not exactly work for Costco. Instead, they make the cabinets and sell them to Costco, which markets these products.
On the other hand, not only is MDF a cheaper product, but Ikea also makes their cabinets themselves. Therefore, they only have to purchase the raw materials.
In a sense, Costco acts as a middle man in the manufacturing and supply chain. This position plays a role in determining their cabinet price.
#3. Package Size
When you buy a Costo cabinet, the installation is relatively easy, especially if woodwork and cabinetry are your forte.
The reason is that some parts of the cabinet are pre-assembled. This installation process is not the case with Ikea cabinets, whose parts are more distinct and take time to put together.
While this might seem like a disadvantage, it is also an advantage.
Because of the nature of Costco cabinets, packaging takes up more space than Ikea. Therefore, the larger the package size, the higher the shipping and delivery cost.
Design Profile Of Ikea Kitchen Cabinets And Costco
Both cabinetry systems offer an array of designs and styles according to your tastes. However, one thing is clear regarding the design between these two brands.
Ikea mass-produces most of its products, while Costco offers the options of metropolitan, semi-custom, or premium customization.
While it is true that both brands have a wide range of available designs, Costco's are more distinct. Costco takes in your desired specification, unlike Ikea, which is not custom-made.
On the one hand, the Ikea cabinet system considers the standard dimensions of most kitchens. Their products are adjustable to allow for excesses.
On the other hand, Costco's systems are more rigid, but they consider your dimensions in your purchase.
This whole concept plays a role in the delivery time for these cabinets. Since Ikea cabinets are pre-made, delivery takes about a week.
Compared to Costco, which takes about six to eight weeks to make their delivery.
Specifications Of Ikea Kitchen Cabinets And Costco
Costco cabinets details specifications for your cabinets according to your kitchen dimensions.
In contrast to choosing Ikea kitchen, the brand builds its cabinets with precise specifications below.
| Ikea Cabinets | Height | Depth | Width |
| --- | --- | --- | --- |
| Base cabinets | 30" | 15" (shallow base)24" (deep base) | 12" – 36" (wide base) |
| Wall cabinets | 15" – 40" | 15" | 12" – 36" (wide) |
| Top cabinets | 10" – 20" | 15" (Top)24" (Fridge) | 15" – 24" (top)30" – 36" (fridge) |
| High cabinets | 80" – 90" | 15" (shallow high)24" (deep high) | 15" – 30" (wide base) |
These sizes can be modified to desired sizes if necessary.
What Is the Most Popular Kitchen Cabinet For 2022?
Many factors determine the popularity of kitchen cabinets even in 2022. These factors could either be generic, like color and designs.
Or they could be more determining other factors include budget, customization, ready-to-assemble, and high-end.
Some kitchen cabinets that rank highest based on these factors are:
Conclusion
It is challenging to choose Ikea cabinets over Costco or vice versa. There are many factors to consider, and each one is as important as the next.
In the end, it comes down to pricing and tastes. However, it would help if you remembered that you will still pay for Ikea kitchen installation, even though they are cheaper to buy.