When looking to obtain a dishwasher, an essential factor to consider is its potential lifespan. With other features, this factor will allow you to get the ideal dishwasher to serve you for a long time.
Additionally, it would help to look at brands that will function optimally for the longest time. Therefore, I will take you through various dishwasher brands and their predicted lifespans.
Several brands assert that their dishwashers last for around 13 to 15 years. However, the average lifespan of dishwashers lies around the axis of 10 years. Nonetheless, you can use brands like the Miele dishwasher for as long as 20 years.
#1. Kitchen Aid Dishwasher Lifespan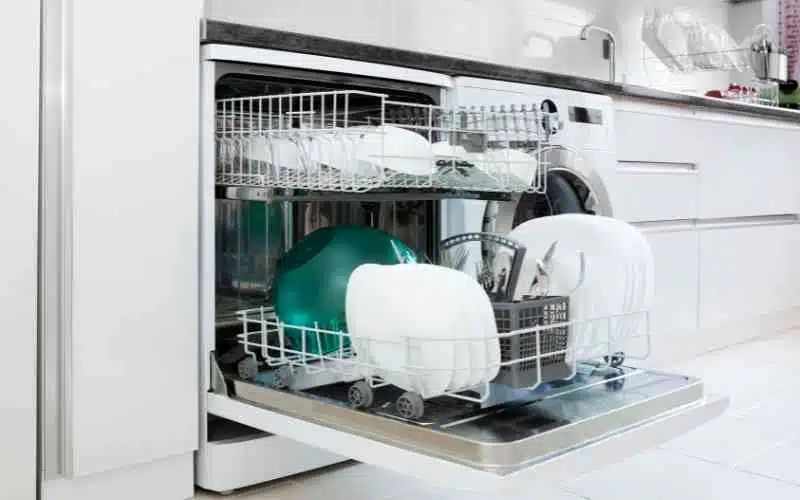 If you own an old Kitchenaid dishwasher/appliance, it would be best to know how old it is.
On average, the KitchenAid dishwasher lasts ten years when you use it properly.
Nonetheless, it can surpass this age if you place it on routine maintenance and proper care. But going further, the KitchenAid dishwasher may start to drop in performance.
Generally, this dishwasher has a pretty impressive lifespan compared to several other averages and extended life dishwashers.
Of course, this does not insinuate that it is a superior brand; however, it gives your value for your bucks.
KitchenAid dishwashers are among the most reliable brands; they do not fail when you need them most.
On the other hand, its compact design and staunch nature allow long-lasting usage and top-notch functioning.
As far as it trails within its life expectancy years, you never have anything to worry about.
Users of the KitchenAid dishwasher have attested to its incredible strength and durability, making it one of the most long-lived in the market. Getting a KitchenAid isn't a bad idea after all.
#2. Bosch Dishwasher Lifespan
A Bosch dishwasher's lifespan starts from seven years and goes further. However, if you are firm on proper maintenance and machine care, you may use your Bosch dishwasher for over 12 years.
Overall, the average expected lifespan of Bosch dishwashers is ten years.
However, the hard water Bosch dishwasher stands above several other Bosch dishwashers, even in the Bosch dishwasher series.
Always understand that neglecting maintenance and care for these machines adversely affects their lifespan, shortening it sometimes. Nonetheless, we consider these factors in determining dishwasher lifespan.
But still, the handling and usage of machines are paramount to their life's longevity. You cannot use a dishwasher harshly and get the same results with someone who takes complete care of his appliances.
Nonetheless, in choosing a dishwasher, most people pick the Bosch series because of the monstrous machines it manufactures.
Therefore, several factors affect the lifespan of your Bosch dishwasher; they include:
Maintenance
Dishes loaded per cycle
Use frequency
Sanitary condition
Although the Bosch dishwasher series may be costlier than regular dishwashers, it always repays its debt in full through its workability and proper functioning.
Well, its quality is quite undoubtable and remains top-notch.
#3. Ge Dishwasher Lifespan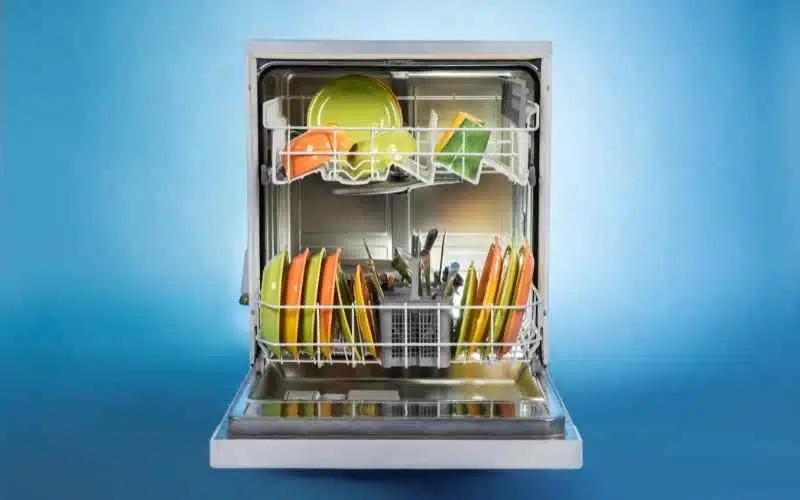 The Ge dishwasher can function optimally for nine to 10 years. However, most Ge dishwashers last between seven years to 12 years.
This brand provides excellent dishwasher energy efficiency, using lesser power to propel its components. This feature is quite appealing and makes it stand tall amid other average-life dishwashers.
However, just like most appliances, the usage on which you place the Ge dishwasher determines its lifespan in the long run.
Proper use and maintenance would create a more long-lived machine, while carelessness would see your appliance's life fall to the barest minimum.
When using a Ge dishwasher, look out for your dishwashing durations, do not place too much load, and do not overlook minor faults.
Following these tips would create absolute value, extend dishwasher life and see you maximize your dishwasher to the highest level. Otherwise, your dishwasher would crash and be a total waste of time and money.
#4. Electrolux Dishwasher Lifespan
Electrolux dishwashers function maximally for an average of 10 years. However, most dishwasher owners have attested that it lasts around seven to 12 years when you give proper care to it.
Electrolux, one of the top electronics manufacturers, invests energy and innovative strength into its dishwashers. So, the result is a high-functioning appliance that is very easy to maintain.
This dishwasher falls within the average price range; its slickness isn't up for debate.
Overall, the life expectancy years of this dishwasher brand are pretty fair and aren't a center of concern from the reviews accompanying its products. 
The Electrolux dishwasher is not waterlogged because of the stainless steel tub within its compartment.
That is one of the ascertaining factors of its strength and durability, which pushes its lifespan to the ultimate high.
#5. Frigidaire Dishwasher Lifespan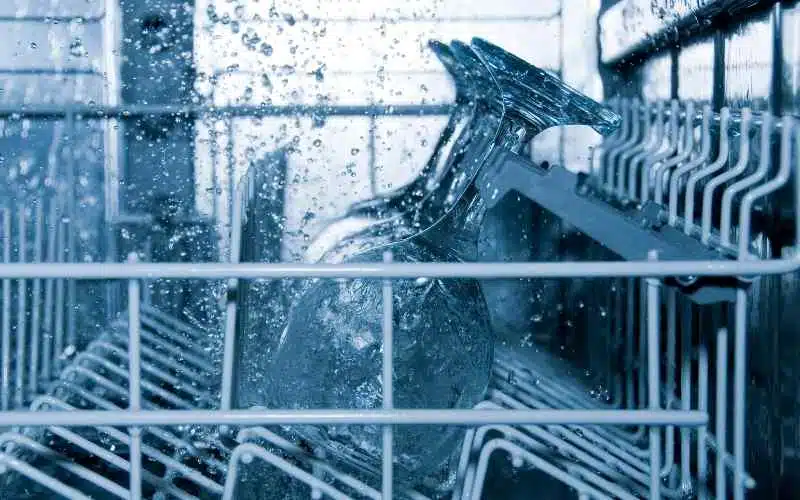 Frigidaire dishwashers last for six or seven years when you use them regularly. Most people go for this brand on tight budgets; therefore, they always know they'll receive value for its downsized cost. 
However, in obtaining a Frigidaire dishwasher, you should remember that it will not serve you as long as superior brands do.
Additionally, this is the ideal appliance for you if you've got a short-term residency plan in a particular place.
Most people buy Frigidaire dishwashers to match their home's set of Frigidaire appliances. This is quite understandable because it gives your kitchen a coordinated outlook and makes it appealing.
Also, for people looking to sell houses, the hyper-smooth look this dishwasher gives to your kitchen helps to convince potential buyers.
But in the long run, going for a Frigidaire dishwasher indicates that you do not plan on using your dishwasher more often.
Maybe you're a busy person or prefer to eat in restaurants. So consequently, the lifespan of this dishwasher is average, even with the highest maintenance possible.
Generally, a Frigidaire dishwasher is not precisely one of the reliable dishwasher brands.
#6. Fisher & Paykel Dishwasher Lifespan
The Fisher Paykel dishwasher can function at a high level for an average of 10 years. This ability places it within the range of high average life dishwashers.
Although surveyors have reported that users indicated a lifespan range of eight to 10 years, it still falls in the group of long-lasting dishwashers.
Like other electrical appliances, the lifespan of the Fisher Paykel dishwasher depends heavily on usage and maintenance. Nonetheless, its functionality is top class compared to other appliances of similar strength.
Generally, the Fisher Paykel dishwasher components deteriorate after ten years of usage.
Therefore, insisting on keeping it even after the time will create unnecessary costs for you, which will have no real impact.
So, the best option is replacement; you can opt for a higher version or stick to the same if you enjoy it.
Another upside of using this appliance is the high dishwasher energy efficiency you enjoy. Lower power consumption and optimized functioning also accentuate the features of the Fisher Paykel dishwasher.
#7. Maytag Dishwasher Lifespan
Maytag dishwashers can last for over ten years when you use them and maintain them excellently.
Because of this high assurance, the manufacturers attach a one-year warranty for parts and workmanship.
Additionally, there is a 10-year limited warranty on several components of the Maytag dishwasher.
Maytag is one of the most reliable dishwasher brands; however, this is quite understandable because their dishwashers' price range fits an excellent brand.
Therefore, from experience, you can tell that in most instances, highly-priced appliances serve you for more extended periods than their cheaper counterparts.
Well, to maximize the lifespan of your Maytag dishwasher, always ensure to keep it clean. Also, allow Maytag professionals to handle all your dishwashers' minor and major maintenance requirements.
You will enjoy your Maytag dishwasher to the highest capacity by simply doing these.
Overall the Maytag dishwasher price range isn't entirely out of reach. Thus, for quality, you must bring out the big bucks; it will be worth it in the end.
#8. Miele Dishwasher Lifespan
This is one outstanding dishwasher brand; the Miele dishwasher can last 20 years.
It is one of the longest-serving dishwashers globally, with a lifespan that is twice that of typical average life dishwashers.
As a result, most dry cleaners and laundry workers settle for this high-end dishwasher.
So, the high price of this appliance notwithstanding, it is still an excellent investment when considering settling for the long-term.
It is best to hop on quality if you can afford it instead of opting for the cheaper, medium-quality appliances.
The Miele dishwasher is superior in tons of ramifications:
First, it has superb cleaning strength.
It is tranquil, giving out the faintest noises.
It has a large interior which allows for large loads.
Higher designs of this brand of dishwashers have optimized features such as a magnificent quick-end washing cycle. Considering all factors, the Miele dishwasher is a must-buy with all its excellent classy touches.
#9. Samsung Dishwasher Lifespan
From expert analyses and predictions, Samsung dishwashers can last eight to 13 years. However, the average life expectancy of a Samsung dishwasher stands at ten years. 
After gathering an array of Samsung appliances in your kitchen, you may want to obtain a Samsung dishwasher to match.
This isn't a bad idea; nonetheless, you should always consider the expected lifespan and several other features and factors before picking one. 
If you do not mind purchasing a dishwasher that can stay with you for just a decade, then this brand of dishwasher is okay for you.
However, if you prefer something relatively permanent, you should go for the more staunch brands like the Miele.
The Samsung is your best choice if you instead pick a dishwasher design with a black stainless steel tub. Also, if you want a dishwasher with a Tuscan stainless steel body, Samsung's got you.
#10. Smeg Dishwasher Lifespan
Smeg dishwashers are one of the most short-lived dishwashers. Users had admitted to its short lifespan, with others claiming to have used it for a little over five years before it went down.
Nonetheless, this is one of the things you should expect when purchasing the Smeg dishwasher.
Compared to dishwashers of superior quality, the Smeg dishwashers are not an entirely reliable dishwasher brand.
Well, the prices of Smeg products are not too high, so you get value for what you pay. Nonetheless, if you're looking for a short-term investment in a dishwasher, Smeg isn't a bad idea for you.
Also, if you're opting for looks other than durability because you plan on matching your array of Smeg appliances, this one is right for you.
However, be prepared to replace within a few years; insisting on fixing the recurrent faults that may come up will see you expend more costs.
But, as always, proper maintenance and great care will help extend the lifespan of Smeg dishwashers to the maximum.
#11. Siemens Dishwasher Lifespan
Siemens dishwashers fall within the average life of dishwashers; they function ideally for about seven to 12 years before going down. Therefore, on average, the expected life length of this appliance is ten years.
However, the manufacturers have a lot of faith in their products, so they have attached a five-year warranty. Generally, these are quite strong appliances that have served you well for a long time.
Although Siemens has only become popular lately, many consumers have trooped in to purchase their products because of their incredible integrity.
The Siemens dishwasher's price range is quite fair in most aspects; this may be one reason their sales peaked.
On the other hand, with a reliability score of 87%, it falls within the range of other reputable brands such as the Miele.
Overall, purchasing this dishwasher isn't bad for someone looking for an affordable average-life dishwasher.
#12. Asko Dishwasher Lifespan
The Asko dishwasher tries to match the life expectancy of high-end dishwashers with its lifespan ranging from seven to 10 years.
However, with the Bosch series and the Miele brand standing tall in the dishwasher market, the Asko follows swiftly behind in terms of durability and, ultimately, lifespan longevity.
Asko has a dishwasher series that carries several designs; they produce an excellent performance during its optimally functioning years.
Also, with the correct maintenance and usage, this line of dishwashers does not fail you abruptly.
Additionally, when you consider the price of Asko dishwashers together with their performance, they are an ideal purchase.
That is because, despite their fair prices, they function correctly during the lifespan range before they begin to ask for a replacement.
On the other hand, the Asko dishwashers do not fail you when you consider reliability. They are a top brand within brands of similar power.
#13. AEG Dishwasher Lifespan
AEG dishwashers are a reputable brand of dishwashers with several attractive features. This dishwasher meets an average lifespan of around ten years and its environs.
However, with the proper care, maintenance, and frequency of usage, this dishwasher exceeds the predicted life length.
AEG dishwashers are integrated with several vital components, which push their efficiency and usability to a high tier despite their low cost.
The most important feature is the lower basket which eases the insertion and removal of loads. 
Additionally, the high energy efficiency of this brand of dishwashers pushes its lifespan higher. The AEG dishwasher achieves its goal with lesser cycles and lesser expended energy.
This ability makes it last longer than high energy-consuming machines.
AEG dishwashers are okay if you want a middle-tier dishwasher with accentuated features.
#14. LG Dishwasher Lifespan
Usually, LG dishwashers have an average lifespan of 10 to 15 years. This range places it as one of the most long-lasting dishwashers on the market.
And this is something that consumers of electronics should predict; LG is one of the top electronics manufacturers, and they never entirely disappoint.
The latest rating for customer satisfaction based on electronics quality saw LG hit a four-star mark.
It is fair because LG has invested so much time, resources, and innovation into their dishwashers. Therefore, it is just okay that their quality reaches an undisputable level.
On the other hand, the ten-year warranty for the motor of LG dishwashers indicates what you should expect when purchasing one.
In addition to building long-lasting dishwashers, LG has incorporated several exciting features that ultimately satisfy your dishes' needs.
The powerful wash of this durable appliance leaves your dishes perfectly clean and ready for the next meal.
Conclusion
Several diverse models of dishwashers possess different features and designs; this makes them last for a different number of years.
Therefore, by looking at their ages compared to prices, you'll understand which is right for you.