A beautiful lawn requires a lot of work. It would help if you water, trim, cut, and remove unwanted plants.
If you experience drought, keeping a green and lush lawn will be hard. So landlords are using a rock for landscaping. But how much does it cost to install rock in your yard?
Replacing grass with rocks adds beauty to your front yard. For installing a rock, the average cost for a ton is 139.77 dollars. The estimated cost for a workforce and a ton of rock is 170.34 dollars.
What Does It Cost to Use Rocks Instead of Grass for Landscaping?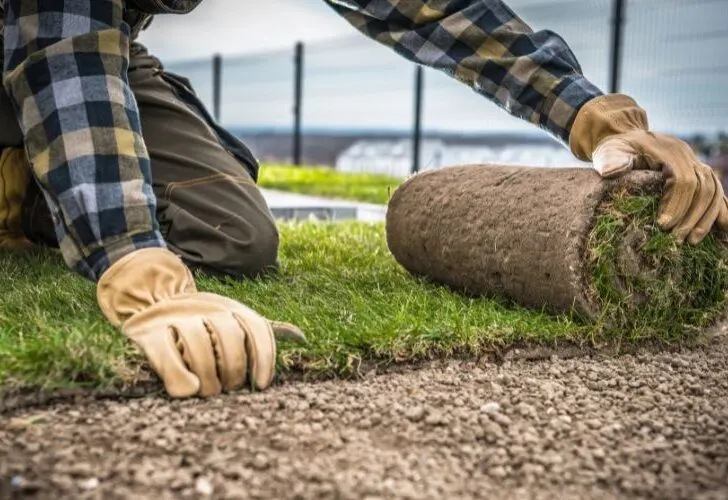 Rocks come in different sizes and shapes according to your preference and serve various purposes. The price of landscaping rocks ranges from 132.92 to 146.60 dollars.
The total labor cost and a ton of rock range are about 155.53 to 203.15 dollars, depending on where you live.
There are different types of landscaping rocks. The best decorative rocks to use for your home are as follows:
#1. Lava Rock
If you want a durable landscape rock, choose a lava rock. They are uneven, shapeless rocks that cost about 20 dollars for 10 lb bags. Although they are expensive compared to pea gravel, they last long.
These rocks are a good replacement for flower beds and beautify your walkway by making it colorful. They come in different colors, like gray, red, and black.
#1. Pros of Lava Rock
These rocks hardly wash away and last long.
They retain moisture and control weeds and pests.
#2. Cons of Lava Rock
The temperature around your plants will intensify since lava rocks absorb and reflect light.
Lava rocks are hard to clean. Also, evacuating is difficult when you don't want them again because it sinks into the ground.
#2. Flagstone
Flagstone is a broken sedimentary rock in various forms, including sandstone, quartzite, bluestone, and limestone.
These rocks exist in two shapes; trimmed and uneven shape. You can use these stones to decorate your balconies, walkway, stepping stones, and walls.
The price range of a flagstone varies on the type you want. So it's best to visit the local stone shops in your vicinity.
| Pros | Cons |
| --- | --- |
| Flagstone is durable and does not change in various climates. | It's expensive and difficult to install. |
| It is very simple to maintain. Just sweep or spray the stones. | The stone surfaces get hot during hot weather and are slippery when it rains. |
#3. Cobblestone
Cobblestones are large river stones found in river beds and come in various shapes, sizes, and colors.
You can use these stones on the driveway and walkway, garden frontiers, terraces, and water features. The price range of cobblestone is about 690 to 915 dollars per 100 square feet.
#1. Pros
They are resistant to water.
#2. Cons
Cobblestone is expensive.
Since some have an unequal surface, removing snow particles can be very difficult. Also, elders and toddlers can find it hard to walk perfectly.
#4. Brick Stones
Brick stone varies in price depending on the material. Bricks are from fired clays, and they come in different materials.
You can use brick stones for your walkway, patios, borders, and walls. Brick stone is simple to maintain and wash.
The brick shapes make it challenging to use for unique designs and aren't easy to replace. However, you can get brick stone from 6 to 10.50 dollars per square foot.
What Is the Cheapest Rock to Use for Landscaping?
Landscape rocks add beauty to your home but are mostly expensive. However, there are decorative rocks that are budget-friendly. The cheapest landscape rock is pea gravel.
Pea gravel is named after the vegetable known as a pea since they are almost the same size.
They are polished small, round stones for terraces, gardens, and fire pits. Pea gravel is good for filling and edging spaces between landscape stones.
They are also a good option for creating colorful pathways and walkways. Pea gravel ranges from 20 to 50 dollars per cubic yard, depending on the color you want to purchase.
The table below shows the benefit of using pea gravel on walkways, garden beds, and driveways.
Disadvantages of using pea gravel for walkways, garden beds, and driveways.
Other cheap landscape stones are crushed granite stones and river rocks.
#1. Crushed Granite Stones
Crushed granite stones are most used for walkways, giving them a sleek look. The price varies with the desired quality and area you want to install the stone, ranging from 50 to 70 dollars per yard.
#1. Benefits of Crushed Granite
It's cheap and simple to install.
It makes your landscape more appealing and natural.
It offers a good drainage system.
It has diverse colors like brown, tan, and gray hues.
Crushed granite stones soothe the mood with the crunching sound it produces.
#2. Disadvantages of the Crushed Granites
The even edges of the rock can injure the pet's paw.
Heavy rain can make the rock muddy and unstable.
It erodes faster because of its loose nature.
#2. River Rocks
River rocks are shiny, polished, round-shaped stones found around freshwater fountains. It is not more than one to two inches in size and is in various colors and shapes.
River rocks are used for various landscape designs but are best for quiet recreation patios, accents, and flowerbeds.
You can combine smaller river stones with the bigger ones and add a paver frontier to create a stylish pathway. The price ranges from 50 to 160 dollars per cubic yard.
#1. Pros
It improves the drainage system, thereby controlling erosion.
Due to its small nature and variety of sizes, colors, and sand shapes, they fit anywhere.
Their colors do not fade out, and they last long.
#2. Cons
It isn't easy to use river rocks with plants.
The rocks can accumulate dirt between them because they absorb heat. Also, they are hard to clean and remove.
Should I Replace My Grass With Gravel?
You may replace your grass with gravel if you can't endure the stress of keeping a grass landscape, or you might want to leave your grass if you like how it looks in your yard.
The choice is yours to make. Grass makes your yard attractive and gives off a cool vibe when maintained properly.
Grass absorbs water and helps reduce flooding. It's also good for the environment because it filters dust and purifies the water that passes through.
Grass also gives a pleasant smell and is a self-cleaning surface. However, they require constant maintenance such as trimming, spraying of chemicals, weeding, and more.
Replacing your grass with gravel provides a modern, environmentally friendly landscape at low costs.
Using gravel reduces the need for consistent upkeep of your surroundings, such as watering, mowing, and fertilizing.
Thus, using gravel for your landscape will reduce the use of chemicals and water. And your front yard will look well maintained without any stress.
Is Gravel More Expensive Than Grass?
Gravel is cheaper to maintain than grass. The cost of maintaining grass is never going to end. But gravel offers you attractive, low maintenance, and budget-friendly yard.
Some companies charge 25 dollars to cut grass for a week, which amounts to 100 dollars a month.
But with 25 dollars, you can install gravel that will last long and doesn't need to spend money to maintain.
How Do I Get Rid of Lawn and Replace It With Rocks?
Replacing your lawn with rocks is an easy procedure. These steps explain the process.
#1. Step 1
Remove your lawn. The simplest way to kill the lawn is to wrap it in a plastic bag such as a garbage bag. Then seal the lawn for a minimum of two weeks.
When you remove the plastic bag, dig out the grass with a square-headed shovel. Cut off the grass and roots.
Use the shovel to eliminate all leftover chunks. You can now compost the dead lawn but don't mulch immediately to allow the dead grass remnant seeds to grow.
#2. Step 2
After removing your lawn, clean up the area. Make sure to smooth the soil and remove all bigger rocks and dirt particles.
#3. Step 3
Lay the fabrics on your landscape surface. Cutting fabric holes is advisable if you want to plant between landscaping stones.
When your yard is neat, lay landscape fabrics, landscape fabrics allow water to pass through while curbing weed growth.
#4. Step 4
The next step you need to carry out is to frame the edge. You can use bricks, pavers, wood, or vinyl edging to keep the landscape rocks firm.
#5. Step 5
After completing steps 1 to 4, you are ready to fill your yard with rocks. Lay the gravel evenly with the use of a garden rake.
You can use a bucket to carry smaller rocks or a wheelbarrow to spread them over a wide territory.
You can also input some relaxed settings in your new design that will allow you to enjoy the view. You now have a yard filled with rocks.
Conclusion
Although rock landscaping has its disadvantages, the benefits outweigh them. Not only does it beautify your homes, but it is also easier to maintain. Replacing grass with rock is cheaper than you think.
So instead of spending more on an attractive lawn, it's best to go for a walkway full of rocks.